And so, Lord, my only hope is in You.  Psalm 39:7-9
We have now had 3 months of war in Ukraine and the end seems even further away and the situation seems hopeless. After 2 years of Covid and now with the economic difficulties we are facing, the hope of a better time ahead seems far away. Despite these difficulties, with your help and generous giving, we have been able to send 14 trucks (mostly curtain siders) of aid to the Ukraine since the war started. This has cost over £60,000 on transportation expenses and the value of the aid received is an amazing £4,452,404. £2,500,000 of this is new dressings, particularly burn dressings, ideal for victims of bombing or gunfire, given to us by a company in Yorkshire. These were entirely new and within 6months of expiry date. Another high value item is colostomy bags – used in the UK for bowel cancer patients after surgery. In the Ukraine they have needed a huge supply of these for blast injury patients who require bowel surgery. The medical aid has been distributed all over Ukraine to over 30 hospitals. We have also send clothing, food and sanitary products to communities. The items have all be very gratefully received and much appreciated. We have never managed to raise so much financial support is so short a time nor have we been able to send so much aid in this time frame – we are very grateful to everyone who has generously given to this appeal.
The situation in Burkina Faso is also difficult, with the security situation still a major issue and food shortages causing real problems. Our partners faced another disaster recently, with a fire at the hospital in Ouagadougou. This did not affect the new maternity or surgical unit or the solar panels (praise God!) but it has seriously damaged the old hospital. We are now appealing for help to repair this – the total cost is just under £26,000 and we will do the work in 3 phases. This hospital is a Christian hospital run by local doctors and our partners offering low cost (or free if the patient has no money) medical care. It offers a vital service to the local community.
We have blessed with several donations towards our reusable sanitary pad project, including £2,000 from Skegness Rotary Club and £3,000 from the Souter trust as well as two large private donations. This is enabling us to reach many girls in Northern Ghana who are trapped by period poverty. They really welcome this assistance to enable them to remain at school and gain their education. The photo below shows girls learning to make the reusable sanitary pads.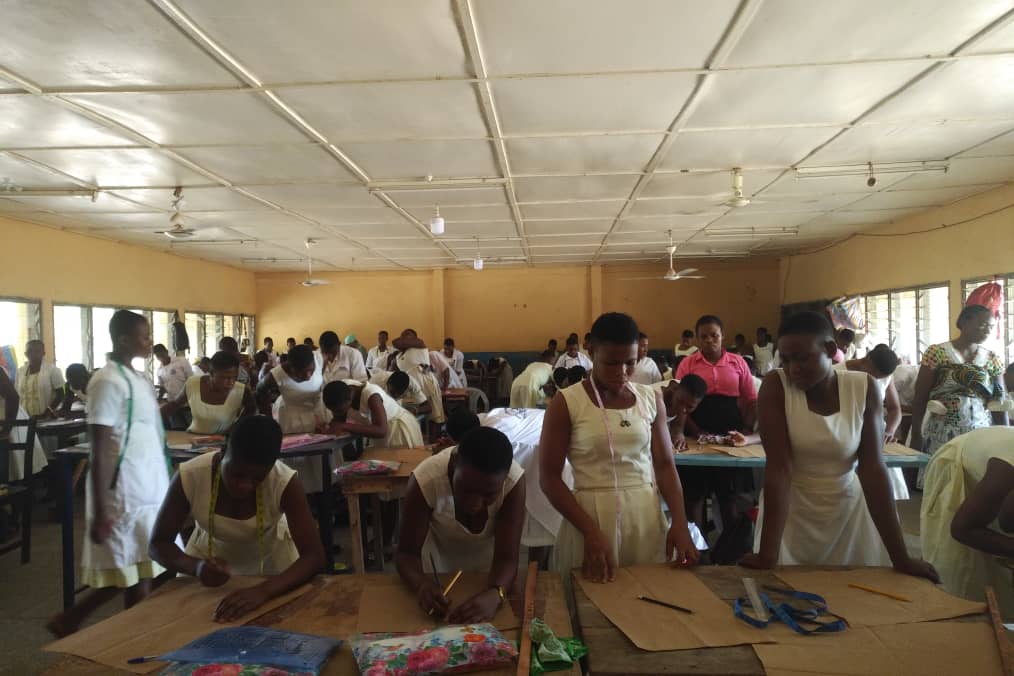 We have also continued with our agricultural (seedbank) projects and our partners are distributing seed already as the rainy season will soon be starting. It is vital they get the grain in the ground as soon as the rain starts to get the maximum growing potential for their plants. The photo below shows Ruby distributing groundnut to impoverished women.
With your help we can offer hope to people in very desperate situations across the world. Not only does it help them in their immediate need but it offers hope for the future and they really appreciate the fact that people who they do not know are trying to help them. Thank you!