Pray ……….with all kinds of prayers and requests Eph 6:18
I would like to ask everyone who reads this blog to pray for our Christian brothers and sisters around the world that are facing persecution. Our friends in Burkina Faso are struggling at the moment with a rise in violence in this wonderful country.The North, East and Eastern central zones are the most effected with churches, schools and other institutions being threatened and sometimes attacked.  Schools have closed and several churches because pastors and their faithful have fled the difficult ares to take refuge in large towns or more secure cities. There are now thousands of displaced people including many Christians. In the last few weeks our friend, Pastor Michel has lost 3 pastors he knows personally and 5 other Christians killed by terrorists. They have left behind families that will struggle without them. Please pray that the government will have wisdom in how to deal with these terrorists and how to protect the country's borders. Pray that the neighbouring countries will become more secure and that our partners will be safe. We support two schools in Burkina Faso, one in the capital Ouagadougou and one in the 2nd largest city, Bobo.

School children in Ouagadougou.
March 2019
Praise the Lord! He is good. God's love never fails. Psalm 136:1
Well, anyone that looks at our web page regularly will realize that we have been having it upgraded. I'm sorry if anyone has struggled to find what they want – it will all be sorted out in time.
We spent two weeks in Ghana at the beginning of February and had a very successful visit. We visited several mango plantations where the trees were at last looking like trees and some even had fruit on them.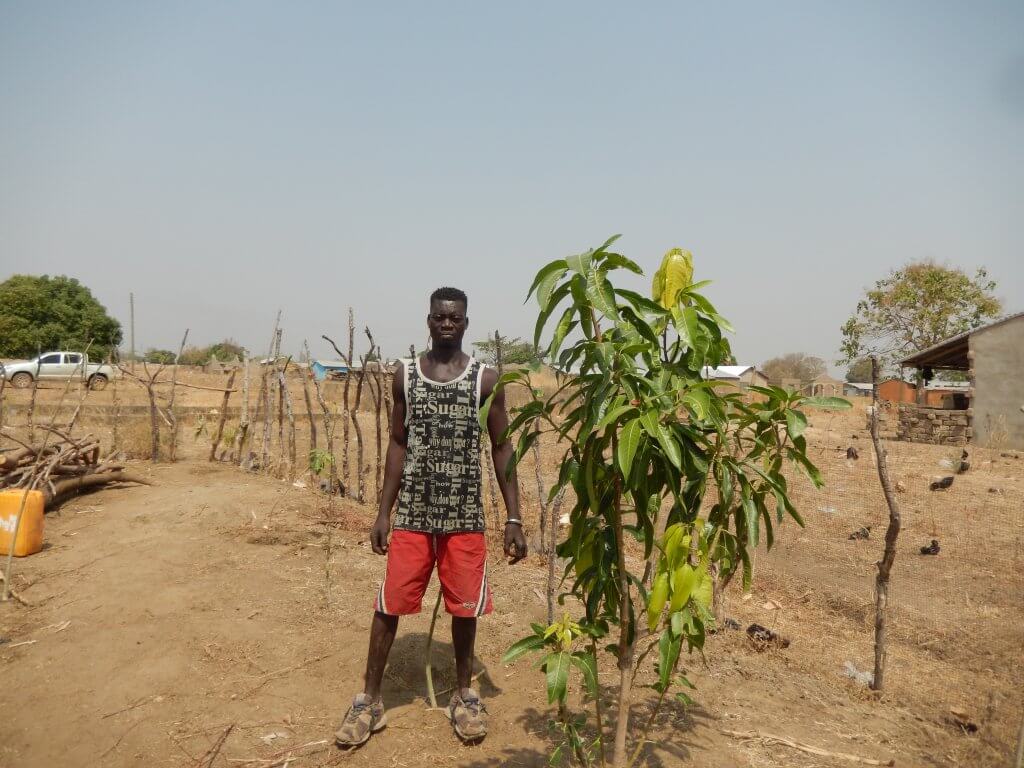 We also met some women who had done a literacy and soap making project. These women were all widows, struggling to bring up their families without the support of a husband. They farm in the wet season but need work in the dry season. They have never had the opportunity to learn to read or write and were poor at numeracy. By teaching them basic skills in literacy and numeracy and then soap making they are now making an earning making and selling soap. They now can work out how much raw materials to buy and how many pieces of soap to make so that they are making a profit. Our partners in Ghana will keep visiting them to check they are succeeding. The soap they make are large round balls – you can see them in the picture below.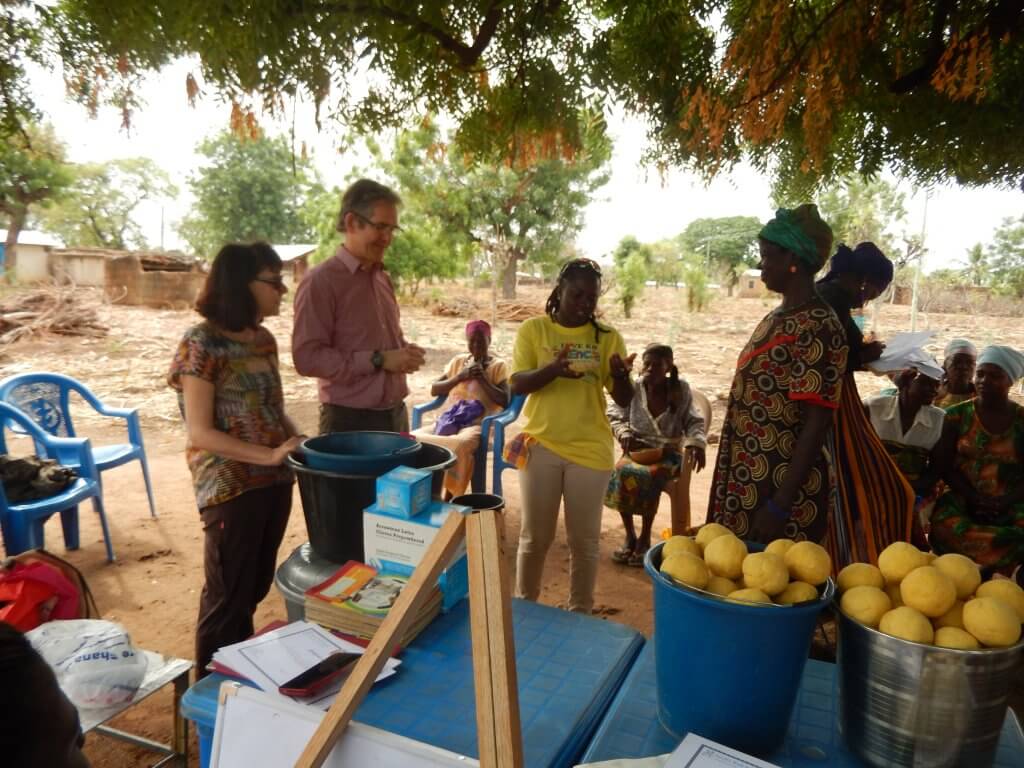 Next month I'll tell you about the wonderful dry season farming project we visited.
January 2019
Happy New Year everyone and I do hope you had a wonderful Christmas.
Alistair and I are travelling to Ghana at the end of this week. We will be visiting the fruit tree projects in the Upper East region as well as the seed bank projects in Upper West. One of the communities that are part of the seed bank project is a christian community  that we visited last year, who were struggling with lack of water. A local charity, Ghana Outlook, has (or is going to) sort out the borehole and we will be able to see this in action. We will also visit Nyoli Koraa, a community that Jacob's Well Appeal were able to dig a borehole for just before Christmas. We are so grateful for all the support we receive that enables us to do such wonderful things. When the borehole is dug the community is also given training on how to look after it and as well as classes on hygiene and water usage.
Photo from Ruby Yap (our Ghanaian contact) showing children washing their ute
nsils in dirty water
We will also visit King's Village where the medical boat is situated to see how things are progressing there.
Whilst in the Upper East Region we will also visit our Dry Season Farming Project. As I have mentioned before, farming in Sub-Saharan Africa tends to occur with the rainy season. The farmers plough the land and sow the seed when it starts to rain and then harvest when the crop has grown. Because of lack of water they do not farm outside of the rainy season. As most men are farmers, they have little to do the rest of the year and just before the harvest their families are hungry, if not starving. People in this area have avoided living near rivers because of the risk of River Blindness, spread by the black fly. Now we can prevent this disease causing blindness, people can live nearer water and this opens up the ability to grow crops all year round with irrigation. The farmers need training on how to do this and this is what our Dry Season Farming Project is all about. They also get training in managing their finances and are encouraged to send their children to school. York Viking Rotary Club has funded this project and we are very excited to go and see how it is getting along. 15 men and 15 women are taking part from the Gogoringsa Community which is near a reservoir so they have a ready access to water to irrigate their land (see below).
I can do nothing by myself, I can only do what I see the Father doing John 5:19-20