Jacob's Well is launching an appeal to help the people of Mozambique who have recently been affected by Cyclone Idai, which hit southern Africa 12 days ago.  The Cyclone, one of the biggest natural disasters to hit the continent in recent years, destroyed tens of thousands of homes in Mozambique.  In the Port city of Beira alone, normally home to half a million people, over 90% of the properties have been destroyed.  Over 1.8 million have been rendered homeless.  The cyclone also wiped out a whole year's worth of crops across swathes of Mozambique, Malawi and Zimbabwe.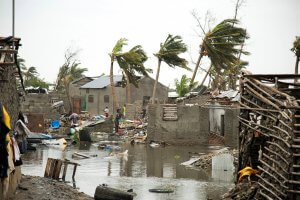 Jacob's Well is partnering with Iris Ministries, A large Christian organization that has a network of schools and orphanages that care for for tens of thousands of Children and their families across Mozambique.  They are sending out teams across the affected area with food and clothing, and will help in the massive task of rebuilding once the waters have receded.   Mozambique is one of the poorest countries in the world, and before the cyclone people were barely able to survive.  Now they have lost the few possessions they have.  Businesses have been destroyed, the infrastructure is gone.  Families have no-where to live and nothing to eat.
Money is what is needed most.   Funds given to Jacob's Well will be quickly transferred and used to buy food which is available to purchase from surrounding countries.  Money is also needed to fund the rescue effort, to treat those who are sick and injured and to help them rebuild their lives.  Our partner, Iris ministries, is right now sending out teams to the affected areas of Mozambique.  They will personally hand out the aid to those affected, make sure that the help that is given reaches those who need it the most.