Know that the Lord, He is God….we are His people and the sheep of His pasture. Psalm 100:3
Hello again – I do hope this message finds you well as we gradually lift the restrictions of the current lockdown due to the Covid pandemic. Our shops were able to open on Monday (the 12th April) and we are having a sale so it is well worth checking out for bargains. It is so nice to be getting back to some sort of normality, albeit very slowly.
It has been a difficult period since Christmas as Alistair's mother has been unwell and unfortunately died in March. She was 92 years old and had lived a long and happy life and we give thanks to God for her. We were gladdened that both our children could attend her funeral, which was restricted due to Covid. Thanks to everyone for their support and prayers at this time.
During March Alistair and I were very happy to be able to help out at Headlands School, carrying out the Covid testing on the pupils. We also managed to drive to Trowbridge near Bath to pick up some vital equipment. On the way back we took a detour to  Skegness to collect further items that Sadesh from the Skegness Rotary Club had been storing for us since Christmas.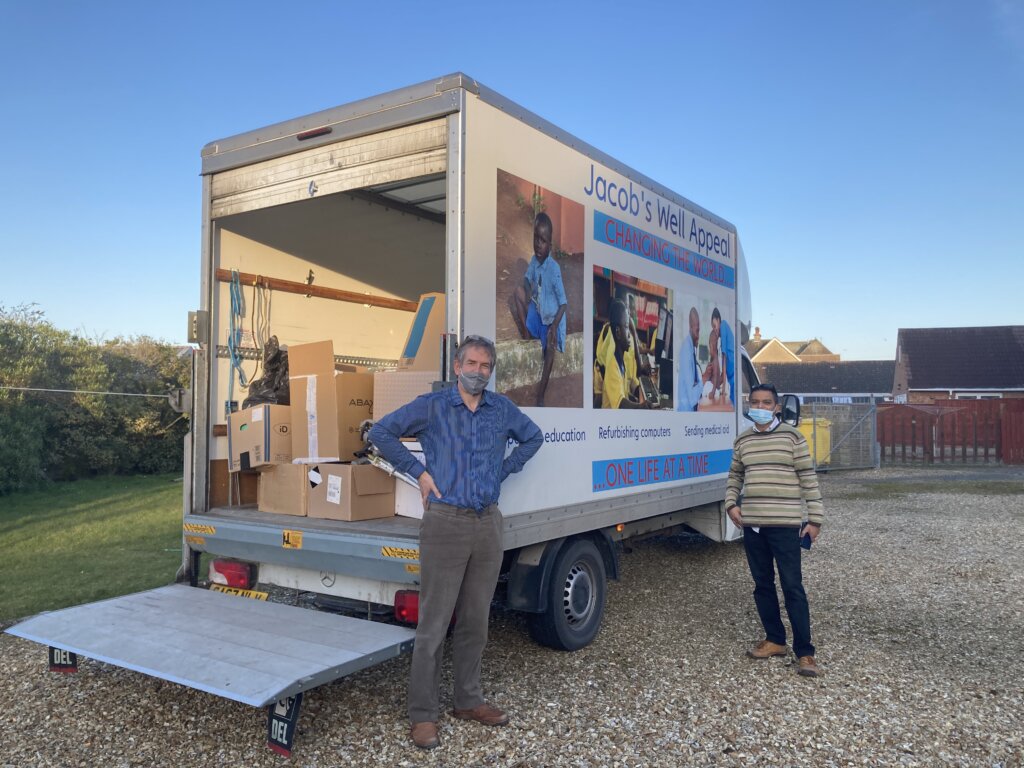 Despite the lockdown we are still able to run projects abroad. We have just completed a literacy project in Northern Ghana and have applied for funding to do another one this year. We are in the final stages of completing the solar panels in Burkina Faso and we are planting mango trees in Sing, thanks to a donation for the Skegness Rotary Club.
Dry season farming in Sing, Northern Ghana.
The dry season farming project in Bobo, Burkina Faso to help feed people who are facing starvation due to unrest caused by Islamic insurgents and also secondary effects of Covid is well underway.
And the mango trees keep growing:
We are so grateful to our partners abroad who are continuing with their work despite hardships and struggles and the beneficiaries who are trying so hard to improve their lives and those of their families.
The Zimbabwe container has arrived and they are delighted with the contents. The Zambia container is still on the way – it was held up by the blockage in the Suez canal.
I would also like to say a big thank you to all the knitters out there who work hard at making blankets and woolly knits for us to send. A new group has recently been started by some pupils at Hornsea School and Language College called Squares Together, who are knitting squares for blankets. All these items are really appreciated by the communities that receive them and we thank you for your hard work.